Turbo 400 Transmission Kit TH400 Performance Rebuild Kits
When it is time for a GM Turbo 400 rebuild kit, whether for a muscle car restoration, high performance street vehicle, street rod, hot rod, or all out race Turbo Hydramatic 400, we have the transmission rebuild kit you need for the job. We offer a variety of performance TH400 transmission kits from a gasket and seal kit, to a master overhaul TH 400 kit.
We sell the top quality JW Performance Transmissions brand turbo 400 kit and master overhaul kits. Each TH400 transmission kit includes the same quality components that JW uses in the high performance and racing TH 400 transmissions that they build.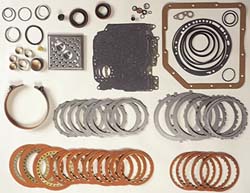 JW Performance Turbo 400 Trans Rebuild Kits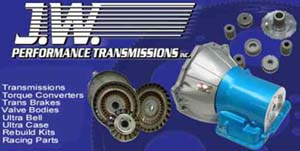 The time to perform a Turbo Hydramatic 400 transmission rebuild with one of these kits is before trouble strikes. Whether you are restoring a street car, or building an all out racing transmission, using a top quality th400 trans overhaul kit or master overhaul kit will insure maximum performance and durability.
GM TH400 Turbo 400 Automatic Transmission Rebuild Kits
For a further description of what is included in each kit, click here:
Part Number Description Price
jw 30090 short kit TH400 gasket and seal kit with teflon rings $49.95 $44.96
jw 30100 Turbo 400 overhaul rebuild kit $125.88 $113.29
jw 30110 Turbo 400 master transmission rebuild kit $192.65 $173.39
jw 30110-U TH 400 ultimate trans rebuild kit also includes all bushings and a filter $248.15 $223.34
jw 30006 TH 400 high flow oil filter, metal screen type $22.82 $20.77
jw 92077T4D JW Performance How to Build a TH400 DVD
$51.74 $47.08

How to Work with and Modify the Turbo Hydra-Matic 400 Transmission
More than 450 photos, detailed drawings, tool lists and charts combine with an information-packed text to provide the most authoritative handbook of its kind! Chapters include: Basic maintenance, from fluid checks to linkage adjustment; Automatic transmission theory, the nuts and bolts of planetary gears and hydraulic circuits; Removal, rebuilding, installing, final checks, parts interchange section and break-in pointers, all in a step-by-step, how-to format.
Turbo 400 TH400 Transmission Rebuild and Repair Handbook
GM Automatic Transmission Overhaul (Haynes Manuals)
Total Car Care is the most complete, step-by-step automotive repair manual you'll ever use. All repair procedures are supported by detailed specifications, exploded views, and photographs. From the simplest repair procedure to the most complex, trust Chilton's Total Car Care to give you everything you need to do the job. Save time and money by doing it yourself, with the confidence only a Chilton Repair Manual can provide.
Covered are the TH 200-4R, TH 700-R4 TH 350, and the TH 400. Only the non-electronic versions of the four speed automatic transmissions are covered.
GM Automatic Transmission Overhaul (Haynes Manuals)
If you do not find the th400 rebuild kit you are looking for, please e-mail, use our online chat system, or call us and we will be happy to help you.
Automatic Transmission Shifters
Big selection, BEST price guarantee and FREE shipping!
Please CLICK HERE to view our automatic transmission shifter kits and replacement cables
Automatic Transmission model nomenclature and related model name reference:
GM Chevy Chevrolet Buick Pontiac Oldsmobile
Turbo 400, TH400, TH 400, Turbo Hydramatic 400, Turbo Hyrdro 400